Weddings
Time stop for a moment and swishing moments wait,
while these two take their oaths,
to be faithful to each other forever!
Johann Wolfgang von Goethe
Medieval weddings
At the foot of Castle Sümeg in a romantic atmosphere...
Wedding guests are greeted by armed cavalry men, infantrymen, the lady of the Castle, the Constable, and the mistresses of the Castle all dressed in medieval costumes at the entrance of Kisfaludy Castle Garden ("Várkert").
The young couple arrives on a wedding state carriage at the Knight's Arena and takes their seat in the royal box. The young couple together with the wedding guests watch the ceremony organised in their honour.
The Captain's artillerymen cannon salute the young couple from the Castle and from the Knight's Arena as an appreciation of the notable event. This is followed by a Historical Tournament, a unique entertainment program to Europe, and as the highlight of the Tournament the Bridegroom is dubbed as the Knight of Castle Sümeg.
Wedding guests will enjoy an unforgettable gastronomic experience after the performance in the Knight's Hall where a medieval feast is served and no cutlery used according to the traditions of the era. Sümeg border castle warriors help to hinder the "kidnapping" of the bride.
The party is on until the early hours of the morning and the newlywed couple spends the night in the honeymoon suite of Hotel Kapitány Wellness****superior as a wedding gift of the Captain!
For more information  or Request for a quote
Potential places:
Our Ballroom
Várcsárda Restaurant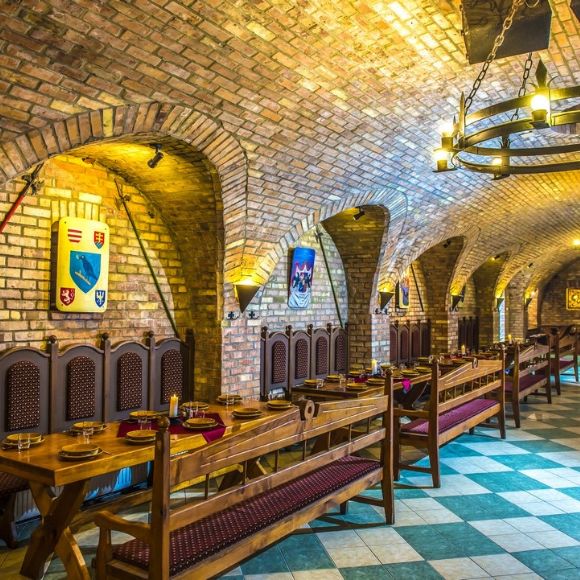 the Big Knight's Hall